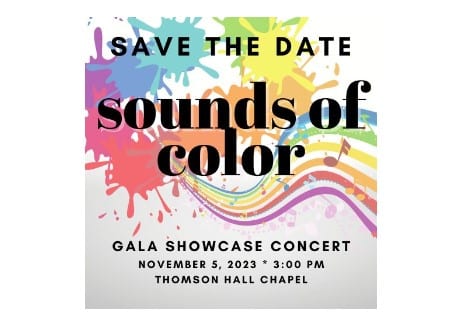 Cumberland Valley School of Music, 34th Annual Gala Showcase Concert | Thomson Chapel, Wilson College
Sunday November 5th, 2023 * 3:00 PM
Thomson Chapel on the campus of Wilson College | 1015 Philadelphia Avenue, Chambersburg, PA.
The concert, Sound of Colors,  celebrates 34 years of making music accessible to everyone in Chambersburg and surrounding areas.
The concert features present and former faculty members, students, alumni, and community members.
Musical highlights include:
·        2023
CVSM
Merit Award recipients – Nathaniel Bryson, flute; Lilian Snowberger, voice; and Alex Gramp, piano
·        Bailey Hovermale, piano
·        Marlin Barnes & Sam Hepfer, percussion
·        Marie Hershey, organ, and Suzanne Barnhart, piano
·        Paula Hepfer, voice
·        Rochelle Kniss, piano
·        Kevin Gorman, piano
·        Joel Newman and Tresa Day, guitar and voice
·        Heather Kline, voice
·        Deb Stotelmyer, violin, with Valerie Merriman, piano
Patron tickets are $30 each (including a goody bag, preferred seating, and a listing in the program)
General Admission Tickets are $15; and tickets for CVSM students and immediate family members are $5.
Tickets can be purchased by calling CVSM at 717.261.1220 or online: www.cvsmusic.org.