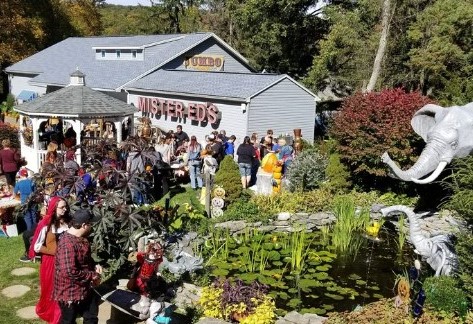 Great Pumpkin Party, Mister Ed's Elephant Museum
Saturday October 21st, 2023 * 12:00 PM – 3:00 PM
Mister Ed's Elephant Museum and Candy Emporium hosts its annual free Great Pumpkin Party.
More than 500 pumpkins will be available for children to paint and take home free-of-charge during the outdoor event.
Children who wear their Halloween costumes may pick up a small goodie bag filled with candy.
Throughout the event, acclaimed artist Michael Allison will carve giant pumpkins that will be raffled to benefit the Adams County SPCA.
His pumpkin art has been featured in the White House and Vice President's residence.
Allison's fanciful art can also be seen throughout the Mister Ed's property as murals and elephants.
A snack stand will also raise money for the Adams County SPCA with treats like hot caramel apple wedges.
Registration is not required.
Families are encouraged to arrive throughout the afternoon.
The busiest time is between noon -1:00 PM.
There is no rain date for the event.
Mister Ed's is located 12 miles west of Gettysburg and 12 miles east of Chambersburg along the historic Lincoln Highway (Route 30) at 6019 Chambersburg Road, Orrtanna.
For more information, visit mistereds.com or call 717.352.3792.