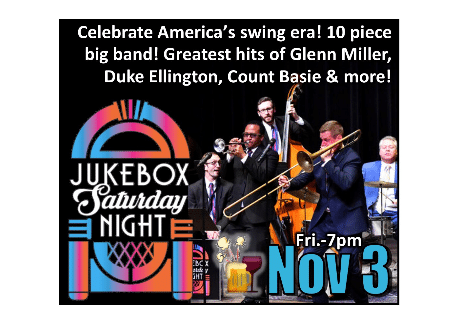 JUKEBOX SATURDAY NIGHT, Capitol Theatre Chambersburg
Friday November 3rd, 2023 * 7:00 PM
Celebrate America's swing era with this 10-piece band and the greatest hits of Glenn Miller, Duke Ellington, Tommy and Jimmy Dorsey, Count Basie, Benny Goodman, and many more!
This stellar performance will include a Salute to all Veterans in attendance.
Vocal selections will include songs made famous by Frank Sinatra, Doris Day, Rosemary Clooney, and other vocal idols.
Jukebox Saturday Night is managed by Glenn Miller Productions, so you can expect the same quality as the Glenn Miller Orchestra while enjoying the biggest and best hits of the Big Band Era!
Beer, wine, non-alcoholic drinks & concessions will be available for purchase.