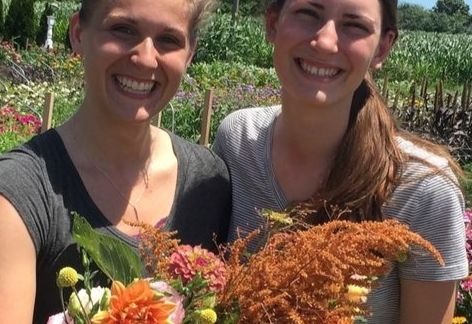 Pick Your Own Flowers
Experience the garden first hand! We provide the scissors and buckets to cut into. You can pick your own bouquet straight from the fresh blooming flowers . It is our opinion that fresh flowers make you happy–and picking them is even more fun! Whether it is a special occasion, family fun night, girl's night out or even a date, the garden is always an unforgettable time.
How it works: You choose what size bucket you would like to pick into. We will give you our bucket to use as a "measuring cup" and you can pick as many flowers as comfortably fit into that bucket. We have clippers for you but you can bring your own if you want. Prices are
$20-small
$30-medium
$55-large
Covid 19: Because we are outside and there are over 50 rows of flowers we are currently not limiting customers or making you reserve a time to pick your flowers. We do not require you to wear a mask while picking. We will ask you to try to maintain social distancing while in the garden. This year we will not be wrapping your flowers in paper and ask that you bring a container to put water and your flowers into to go home.