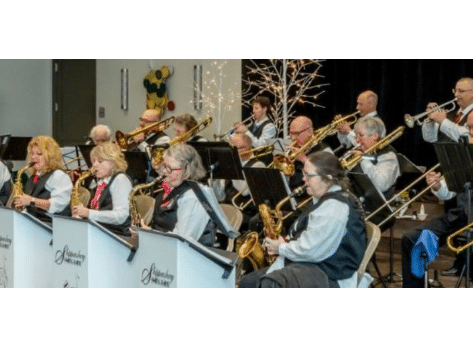 Shippensburg Swing Band Halloween Dinner Dance, Pleasant Hall Volunteer Fire Co Activity Center
Saturday October 28, 2023 * 6:00 PM – 10:00 PM
There will be dinner followed by dancing, gift basket raffles, a 50/50 drawing, and a costume contest!
Live music for dancing will be provided by the Shippensburg Swing Band.
The Shippensburg Swing Band, under the direction of Vicki Baker, is a swing band located in Shippensburg, Pennsylvania.
Our musicians hail from Shippensburg, Newville, Chambersburg, Waynesboro, and other surrounding towns.
It is part of a three-band organization: the Shippensburg Band, the Shippensburg Blaskapelle German Band and the Shippensburg Swing Band.
The music selections span from the 1930s through the 1950s, concentrating on the 30s and 40s styles of music.
Tickets are $30 per person. For more information and to purchase tickets go to www.swing.shipband.org
Proceeds from the event go towards providing music scholarships for local high school musicians.
Pleasant Hall Volunteer Fire Co Activity Center | 9722 Cumberland Hwy, Pleasant Hall, PA 17246