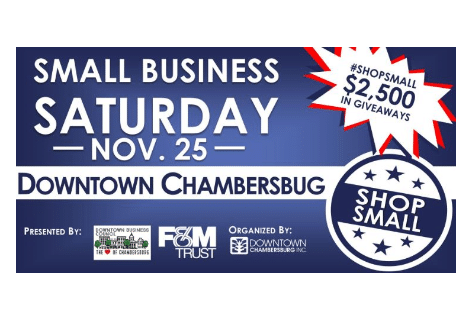 Small Business Saturday, Downtown Chambersburg
Saturday November 25th, 2023 * 10:00 AM – 2:00 PM
In an effort to counter Black Friday's big box store shopping, Small Business Saturday encourages consumers to patronize locally owned businesses during one of the busiest shopping periods of the year – Thanksgiving weekend.
Downtown Chambersburg Inc. is once again coordinating specials and promotions to celebrate our local businesses for Small Business Saturday on November 25.
​Shop Small Giveaways
More than $2,500 in Downtown Dollars will be given away to shoppers who present a receipt for $25 or more dated November 25, 2023, from a Downtown Chambersburg business.
Present your receipt from 10 a.m. to 2 p.m. in front of County Courthouse on the Square of Chambersburg to receive your giveaway! (While supplies last)
What are Downtown Dollars?
They are vouchers that can be used just like cash at participating downtown businesses on Small Business Saturday for the amount identified on the voucher.
$10, $20, and $50 Downtown Dollar Vouchers will be given out – plus one lucky shopper will draw "The Golden Ticket" worth $100 in Downtown Dollars!
Giveaway Rules and Restrictions:
​A receipt of $25 or more from a downtown Chambersburg business dated November 25, 2023 must be shown for eligibility to participate in the giveaway drawing.
Downtown businesses are those located in the central core district which reaches North to the Towers at Falling Spring, South to Washington Street, East to Third Street, and West to the Rail Trail and Grant Street.
Giveaways begin at 10 a.m. and end at 2 p.m. or when all Downtown Dollars have been distributed, whichever comes first.
Limit one per household.
Downtown Dollars are valid only at businesses listed on the voucher.
Downtown Dollars are valid only on November 25, 2023.
Each Downtown Dollars voucher must be spent at one business; no change will be given for purchases less than the Downtown Dollar amount.
Downtown Dollars are not redeemable for cash.
Business owners and employees are not eligible to use Downtown Dollars for purchases from their own business.