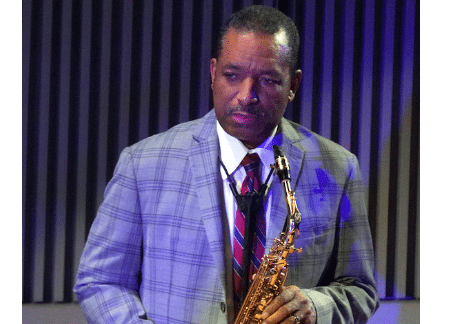 32nd Institute Annual Jazz Festival at The Wharf, The Institute
Saturday August 27th, 2023 * 5:00 PM – 7:00 PM
This year is our 32nd 
Institute annual jazz festival—featuring 
NEA Jazz Master Big Chief Donald Harrison Jr.
The Institute's annual 
jazz festival continues to spotlight top professional artists each year that light up the outdoor stage with hot summer jazz.
**Admission is free | Rain location to be announced**
32nd annual Institute Jazz Festival on August 27 – Jazz at the Wharf, featuring NEA Jazz Master Big Chief Donald Harrison Jr.
This year's concert presents the Donald Harrison Quartet, featuring Big Chief Donald Harrison Jr. (alto sax), Dan Kaufman (piano), Nori Naraoka (bass), and Brian Richburg (drums).
In 2022, the National Endowment of the Arts awarded Harrison the prestigious title of NEA Jazz Master. Harrison honed his experience playing with Roy Haynes, Art Blakey and the Jazz Messengers (along with fellow New Orleans native Terence Blanchard), Eddie Palmieri, Dr. John, Lena Horne, McCoy Tyner, Dr. Eddie Henderson, Miles Davis, Ron Carter, Billy Cobham, Chuck Loeb, Dr. Lonnie Smith, Digable Planets, Guru's Jazzmatazz, The Headhunters, The Chicago Symphony Orchestra, and The Notorious BIG.
Harrison is the recognized Big Chief of Congo Square in Afro-New Orleans culture and was made a Chief in 2019 by Queen Diambi Kabatusuila in the Democratic Republic of Congo, Africa.
He has performed with over 200 jazz masters and created three influential styles of jazz.
At the age of 19, he created a modern jazz take on the New Orleans second-line tradition and introduced his composition, New York Second-Line to the jazz world in 1979.
By the mid-80s, he created Nouveau Swing, a distinctive sound that blended the swing beat of modern jazz with hip-hop, funk, and soul music.
In the 90s, Harrison recorded hits in the smooth jazz genre.
He began exploring music through the lens of quantum physics in 2000.
With quantum jazz, Harrison heard how to move music from a two-dimensional state into a four-dimensional state.
Harrison has been a mentor to artists as diverse as The Notorious BIG, Jonathon Batiste, Christian Scott, Trombone Shorty, and Esperanza Spaulding. 
Harrison has recorded around 25 albums as a leader (including seven with a group he co-led with Terence Blanchard).
In addition, he has recorded six albums as a member of the powerhouse jazz group, The Cookers (with whom he has toured since 2010), and numerous albums as a sideman.
As part of his dedication to preserving New Orleans traditions, Harrison appeared in Spike Lee's When the Levees Broke: A Requiem in Four Acts, a documentary about the devastation of the city after Hurricane Katrina hit, and also in the post-hurricane New Orleans HBO series Treme.
He continues to celebrate and promote the culture and music he loves.
Launched in 1992 and presented every year since, the Institute Jazz Festival was previously held at Renfrew Park and has featured a long list of jazz legends, including David "Fathead" Newman, Randy Brecker, Bud Shank, Houston Person, Gary Bartz, Karrin Allison, Lew Tabackin, Joey DeFranceso, Arturo O'Farrill, Frank Morgan, Jeff "Tain" Watts, Rene Marie, Vincent Herring, Ingrid Jensen, Eric Alexander, Joe Locke, Steve Wilson, and Paul Bollenback.
In 2020, when live audience capacity was limited, the concert was live-streamed around the world.
The Pretzel Spot food truck will be on site 
and BYOB is permitted.
Parking is available on the property.
Those attending are encouraged to bring lawn chairs and blankets, and picnics are welcome.
Cold water will be available free to all attendees.