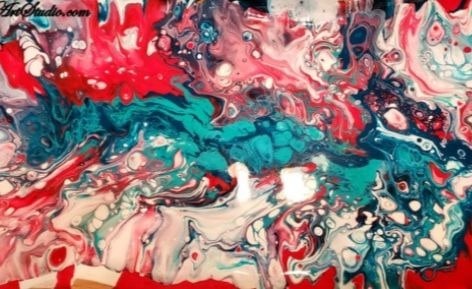 Time
1:00 pm - 4:00 pm
Cost
$45.00
Acrylic Fluid Pouring at Joyful Arts Studios
This is a class in the studio,  a MASK is required except while you are eating. Social distancing will be practiced.
Beginner's Welcome! Ages 14 and up! 
Come and learn a variety of pouring techniques. The Youtube videos make it look so easy but there are many things they don't tell you, that Susan will. You will be doing three pours, one on a 6×6 framed gesso panel and an 8×10 framed gesso panel and the third surface has yet to be determined.
Come to learn one of the latest painting trends, poured acrylics. You will learn various techniques and use of different mediums.  All supplies will be provided. You will pour several small pieces. Be sure to wear old clothes because this tends to be a messy technique. You will need to return the following week to pick up your dried paintings.
Feel free to bring a beverage of your choice. The bowl of chocolate is always ready and waiting for my students!
Register Here