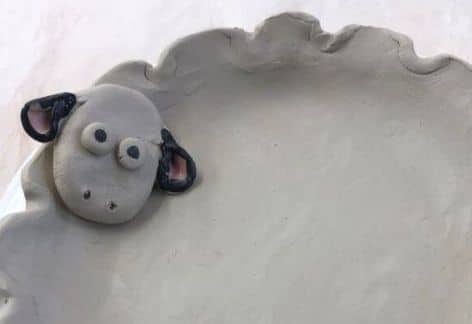 Kids Sheep Plate, The Nicodemus Center for Ceramic Studies
Class will be held on Sunday, March 7th at 1:00 PM
Create an adorable sheep plate with your own unique touches. Cost is $25 per child or bring a friend and pay only $20 each (parents and grandparents are welcome to assist in creating one with their child).
Instructor Jenny Snyder will guide children each step of the way and she will use a template to create a cute little sheep to hold your spring treats!.
Join us from 1:00 PM – 3:00 PM at the Ceramic Arts Center and this class is recommended for children 6-12 years old and will take approx. 1 1/2 hours to 2 hours.
We are in compliance with the CDC's recommendations and we will practice the appropriate social distancing measures.
Parking is available on the street or in the Lutheran Church's parking lot, which is located a block further on the left-hand side.
Any questions- please reach out to Jenny Snyder at 717-658-4137 or email: nicodemuscenter@gmail.com