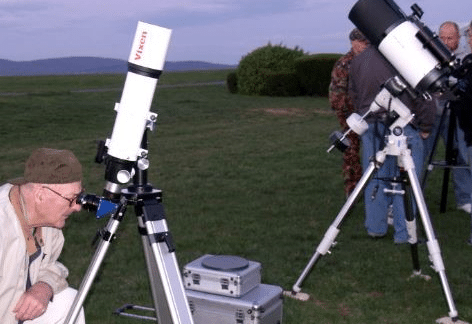 Star Party, The Institute
Monday December 4th, 2023 * 6:30 PM – 8:30 PM
Area residents are invited to a "star party," a telescope viewing of the night sky at Pine Hill Recreation Area near Waynesboro.
The event, a partnership between The Institute and Tri-State Astronomers (TSA), is free and open to the public.
Telescopes will be set up in the park, and members of the Tri-State Astronomers club will be on hand to guide viewers and answer questions.
Event coordinator and TSA member, Andy Smetzer said, "One of the goals of our group is to have as many people as possible look through a telescope.
It's also a good chance for someone thinking of buying a telescope to try one out and ask questions."
"During the star party, we will be observing various nebula and star clusters of the winter night sky," Smetzer said.
Viewers may come and go anytime during the event.
Those attending may bring their own telescope and binoculars, as well as lawn chairs or blankets.
Flashlights are not permitted in the telescope viewing area but may be used to reach the area from the parking lot.
(Cloud date TBA if needed—check website if cloudy)