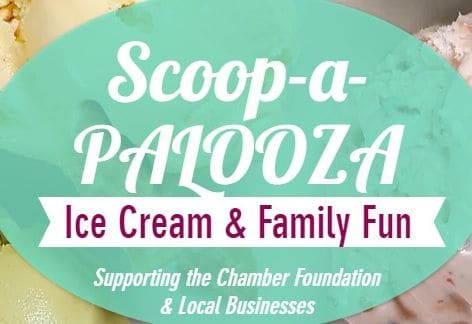 THE SCOOP-A-PALOOZA 2021
Thursday July 1st, 2021 – Saturday July 31st, 2021
Founded in 2010, Scoop is an annual ice cream event to support the educational programs of the Greater Chambersburg Chamber Foundation.
In 2020 & 2021 Scoop went virtual with the Scoop Ice Cream Trail Map
Local Ice Cream, Prizes & Virtual Events
2021 Scoop is again on the road in July – National Ice Cream Month!
Presented by ACNB Bank, Scoop features a FREE Scoop Ice Cream Trail Map with our participating ice cream shops, a Scoop Kids collaboration with Franklin County Library System's Bookmobile, Virtual Scoop T-Shirt shop and a Facebook Book Live Celebrity Sundae event on Saturday 7/10.
Plus new in 2021 a SCOOP RAFFLE with hundreds of dollars of gift card & other prizes (buy your tickets starting in June 2021) weekly & monthly prize drawings.