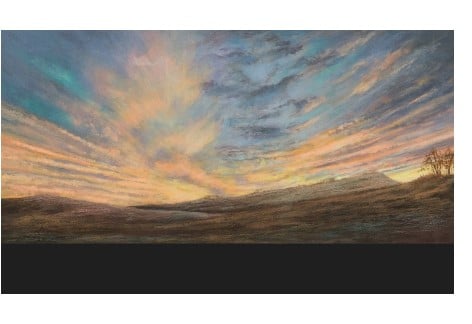 Opening reception for a new art exhibition at Gallery 50
Friday August 11th * 5:30 PM – 8:00 PM
Gallery 50 hosts an opening reception for a new art exhibition, "This Majestical Roof: Impressions of Sky," at 50 West Main Street in downtown Waynesboro.
The evening will showcase the new artwork and include free refreshments in addition to live music from Soleil in the adjacent Music Makers space.
The eight featured artists are Margery Benson, Joan Lee, Leslie McEntire, Laurie McKelvie, Rebecca Pollard Myers, Jaci Rice, Sandra Schuster, and Amélie Lavenant-Wink.
"We're excited to exhibit these paintings and photographs featuring skies, inspired by Shakespeare's words, 'this majestical roof fretted with golden fire…'" Gallery 50 curator Marti Yeager said.
The gallery will also have new fine art and crafts by local artists available on the shelves, including pottery, jewelry, wood carvings, stained glass art, and more.
Following the reception, the exhibit will be on display through October 28th, 2023.
Gallery 50 is open on Fridays from 5:00 PM – 8:00 PM, Saturdays from 11:30 AM – 2:30 PM., and by appointment.
In addition, the full exhibit will soon be available to browse and purchase on the gallery's online shop at www.gallery50-aagw.square.site
Gallery 50 is owned and operated by the Arts Alliance of Greater Waynesboro and spotlights fine art and high-quality crafts from local artists and artisans.