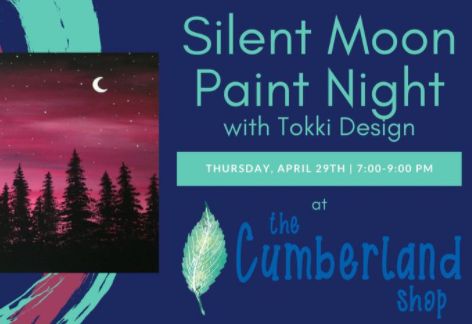 Time
7:00 pm - 9:00 pm
Cost
$25.00
Silent Moon Paint Night The Cumberland Shop
Thursday  April 29th, 2021 * 7:00 PM – 9:00 PM
Presented by Tokki Design artist Brittni Pham, attendants will be led through a step-by-step painting session of Silent Moon.
The event will be held at The Cumberland Shop (16 W. King Street, Suite 101, Shippensburg, PA 17257) from 7:00-9:00 pm on Thursday, April 29th!
The cost is $25 per person, which includes an 11×14 canvas and all painting supplies. Refreshments will be provided!
Registration and payment is due prior to the event. Please bring your receipt as your ticket. As paintings can take the full 2 hours, we recommend that you come by 6:45pm, not only to get set up, but also to look around The Cumberland Shop and do some shopping! We do require you to wear a face mask in accordance with PA Department of Health Guidelines.
**A paint shirt is recommended.
No talent is required, only an open mind for creativity